Last year I completed my PhD studying interferometry for the detection of gravitational waves. My thesis is now available in electronic form that anyone that wishes to read it can obtain, and the source code is on GitHub. A paper copy - following the standard fabric-bound, A4 format specified by the university court - is available courtesy of the university library: at the time of writing, my thesis is stored in the research annexe on 29 Saracen Street (interestingly, that's not on campus, but near the Bowmore whisky bottling plant in the north of Glasgow).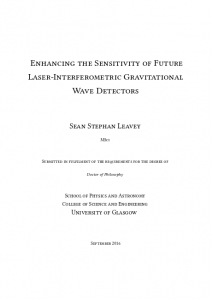 One of the ways in which I procrastinated while writing it was to try to produce diagrams, charts and figures which were entirely made from vector graphics such that they could be scaled for display or print at any resolution without losing fidelity. This was unfortunately due to rather of an obsession I have with data integrity: why throw away information when you don't have to? It might come in handy later. Information is lost in photographs when they are scaled up - for example in preparation for print. This is in general true of all *raster* graphics like the JPEGs, PNGs and GIFs used all over the web and in designs for print. Vector graphics typically look nicer when displayed in a PDF viewer at high screen resolution or printed with a high quality printer. There are downsides, and there is definitely an appropriate time and place for raster graphics, but not for most of the plots and diagrams in my thesis.
The upshot of all of this time spent making nice, scalable graphics was that it was possible to render the thesis in (theoretically) infinite fidelity for printing. My printed thesis graphics looked really nice in the A4 tome I submitted to the library, but the book design itself looked dated and boring. That's what gave me the idea to investigate professional print services.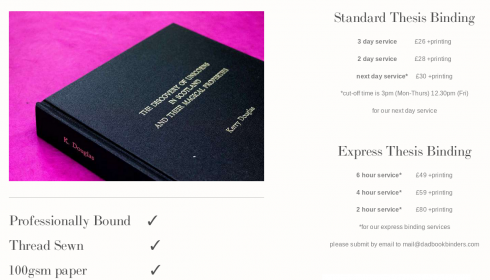 Publishing my book
My thesis is almost entirely made up of text, plots of data and diagrams. Almost all of the diagrams are vector graphics. The scant few raster graphics were of circuit board layouts (which could, in hindsight, also have been produced in vector format). I had no photographs, both because my work was mainly focused around simulations and designs for new, not-yet-built experiments, and because of my aforementioned dislike for raster graphics.
As I had written the thesis in LaTeX - a scripting language for documents - I realised it would be straightforward to resize my A4-formatted thesis into a nicer A5 size more suited for reading, and in the process lay it out the way I really wanted to instead of conforming to the boring old University of Glasgow approved format. If nothing else, I'd save on paper by decreasing the margins and text spacing to result in a book more like the ones you buy today. Don't you hate it when you have to turn the page so frequently?
So, what follows below is a guide to how I published my thesis as a nice, custom book.
Results
After about a week, I got the books in the post. Accompanying the delivery was a note saying that I should wait at least 12 hours before opening the pages fully; they are apparently immediately dispatched after production so there's a chance the glue might not have fully set if the delivery was unusually quick. I was so eager to look at my creation that I did open one copy - the one I intended to keep myself - and it seems in hindsight that it didn't do any damage.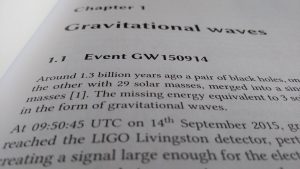 The quality is superb. The whole book seems tough and durable. The book as a whole feels sturdy. The glue is neatly applied to the paper block, which is firmly glued to the inside of the case, over the edges of the cover which are tucked properly in place. It easily sits free-standing on its narrow side, able to sit on a shelf and support its own weight. The binding of paper and cover has been achieved flawlessly, and the book block sits exactly in the middle of the cover. The paper quality is great. The print fidelity on the black and white and colour pages is equally excellent. I am extremely pleased and impressed with the results, especially given the price I was charged.
The artefact mentioned above was, while present in the final print, hardly noticeable (see photo below). It was more than offset by the superb print quality for the diagrams and images (and indeed text!).
Highly recommended!