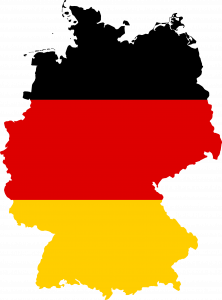 In December I moved to Hannover, Germany to start a postdoc at the Albert-Einstein-Institute, a Max Planck institute dedicated to developing instrumentation and conducting data analysis for gravitational wave astrophysics. I've started work on the AEI 10 m prototype, which is an absolutely awesome experiment, but that's for another post.
I found the move to be relatively painless, but expensive. I knew there would be some up-front expenditure before my first pay cheque, but I wasn't quite expecting the amount I ended up shelling out. This is a guide to approximately what I paid, which I hope will serve as a guide to others moving to this part of the world in the future.
Moving and on-going costs
Flights
Hannover is not a particularly popular tourist destination, so direct flights from Scotland don't exist. You can instead fly via Manchester, Amsterdam or London with various airlines. I chose to fly BA via London Heathrow, costing £220, albeit a return ticket so I could come home for Christmas. The flight back to Hannover after Christmas was £110.
Apartment rent and deposit
As is normal, I had to pay a deposit to my landlord ("Vermieter") in order to rent my apartment. The standard in Germany is equivalent to three months of rent - this is much higher than in Scotland, where the standard is equivalent to one month's rent, with a legal maximum of one-and-a-half.
I don't want to divulge what I pay in rent, but taking the average rent in Hannover to be €450 for a single bedroom apartment, expect to pay around €1350.
Apartment furniture and appliances
Furnished apartments are rare in Germany. Most apartments offered to tenants are free of all but the most basic fittings such as oven, hob and fridge (but not light fixtures - apartments often have free hanging electric wires waiting for a light fixture to be attached!). The walls are usually painted in neutral (read: white) colours, with any holes made for hanging pictures or furniture sealed with filler. One of the most missed items is surely the washing machine - you may quickly tire of hand-washing or using the local laundrette.
So, one of the earliest tasks for a new resident in Germany is to head to IKEA, browse the "for sale" section of the newspapers or time their move for when a colleague is leaving their own apartment and needs to sell their stuff.
I managed to borrow a lot of furniture from friends - in fact, I was extremely lucky and got almost everything on loan for free - but I did still spend around €500 in IKEA. Expect to spend significantly more if you aren't as lucky - between a bed, mattress, sofa, kitchen table, desk, chairs, shelves, washing machine and any other white goods not provided, you will surely spend €1500 or more.
Utilities and broadband
Some apartments are provided "warm", i.e. with heating, electricity, gas and water included in the rent. This is particularly the case if the block has some form of central heating shared between apartments, where the factors charge the landlord for usage, who passes it on to you via rent. At the end of the year, the landlord then calculates the difference between what they've charged and what they've paid, and you either pay or receive the difference. My apartment is older, and does not have shared heating, and so my rent is for a "cold" apartment; as such I had to arrange to pay electricity, gas and water myself.
The local supplier in Hannover is "enercity". There are others, but this company is the de-facto standard. They might even be owned by the city in some form. That's what my landlord used before I moved in, and given my inexperience with utilities I just kept them on. In all, enercity decided that €93/month is adequate for gas, electricity, fresh water and waste water supply/extraction. Whether this is too low, too high or just right remains to be seen.
For my broadband connection, I wanted a supplier that didn't lock me in to a two year contract, as seems to be the norm in both Germany and the UK. I found 1&1, and signed up for their 50Mb/s plan at €19.99/month. They actually advertise it at €16.99, but as is unfortunately standard practice, they make you pay for a new modem - similar to one you probably already own from a previous broadband contract. To add insult to injury, you not only pay a one-off fee for the modem - €49.99 - but also an additional €2.99/month on top of your plan as a "rental" fee. I already own a modem/router, but opting for the modem-only option (there is no option to take nothing) results in a one-off charge of €149.99. The extra €100 up front would require about three years of payments to eventually start saving money, and I find it unlikely I'll stick with the same provider for so long, so I went for the €49.99 + €2.99/month one.
I also had to pay a whopping €150 installation fee because I didn't opt for a two year contract. I imagine this will simply involve a technician turning up and twiddling a few wires, but it's another hoop you have to jump through. Man, broadband supply in Germany, the UK and the US is crying out for a disruptive start-up company to move in and kill the monopolistic incumbents!
Bank charges
Banking in Germany is in the stone age by UK standards, with many shops not accepting debit or credit cards, and all preferring cash. Germans like it this way due to their distrust of consumer credit and debt in general (many small or medium German family businesses - termed Mittelstand - prefer to grow organically over decades instead of taking loans, allowing seemingly simple objects such as pencils to still be manufactured profitably in Germany).
As banks don't tend to profit from overdraft charges, VISA/Mastercard kickbacks and other means of money-making from cashless transactions, they charge customers for maintaining a current account. They also sometimes charge for opening an account, especially for the most basic accounts used for holding apartment deposits (which, in keeping with the stone age theme, use paper passbooks).
As the Max Planck Society is a partner with Deutsche Bank, they offer members a free current account, so I took this offer. In general, other bank accounts charge somewhere in the region of €2-10 per month depending on features. About €4/month seems typical from asking around. Online-only bank accounts exist, often available free of charge, but the sign-up process apparently often involves a Skype conversation to verify your identity, which sounds daunting to me as a German non-speaker.
My apartment deposit account cost a one-off €20 to open.
German TV licence
I had barely unpacked in my apartment after registering as a resident, when I received a letter from the ARD, ZDF and Deutschlandradio, demanding that I register for a TV licence.
Whether you like it or not, you are obliged as a householder to pay the German TV licence ("Rundfunkbeitrag"). Unlike in the UK, where it is required only in the case of those who watch live broadcast or, since September 2017, BBC catch-up TV, in Germany it is a required* payment whether you watch TV or not. The spirit behind this rule is that even if you yourself do not benefit from live broadcast TV, society in general does, and therefore all must pay for its upkeep.
There is a small but vocal minority of residents in Germany that refuse to pay this TV licence, but eventually the agency responsible for its collection will take the money owed directly from your bank account and so you should just pay up to avoid trouble, and contact a local MP to complain about it. The charge is €17.50/month.
*Apparently this is a strange legal loophole. It is not technically illegal to avoid paying the Rundfunkbeitrag, but the agency in charge of collecting the fee are legally allowed to collect the money from you. If after enough warning letters you have not paid, they can collect the money from your bank account anyway.
Health insurance
All German residents must have health insurance. The state provides coverage to certain state employees, including Max Planck Society contract holders, and anyone earning less than around €50,000 per year. The payments are standardised, with the employee and employer splitting the cost equivalent to approximately 15% of the employee's salary. Private health insurance is available for anyone willing to pay for it, and certain employees ineligible for public coverage. Private coverage is typically better than public, offering better quality care and treatment - private rooms in hospitals, treatment from more experienced doctors, quicker appointments, etc. - at a large premium. It's not the way it should be, but it's the reality of treatment in Germany, the UK and most other developed nations.
Due to the nature of my contract at the Max Planck Society, I have to pay for private health insurance. The premium depends on your age, and for a late-20-something it costs an eye-watering €300/month (here is a table). I do get some of that back from my employer, and if you consider that you would be paying around £200/month in National Insurance in the UK on an average salary, then it's not that much worse.
Total
One last thing to consider is food. Food costs are about the same as in the UK, so about €100/month depending on your tastes and frugality.
Here's a table with my approximate up-front and ongoing costs. Consider these to be a very rough estimate; individual circumstances and the cost of living in different parts of Germany will vary things.
| Expense | Up-front cost | Monthly cost |
| --- | --- | --- |
| Flights | €250 | €0 |
| Apartment rent and deposit | €1350 | €450 |
| Apartment furniture and appliances | €1500 | €0 |
| Utilities and broadband | €200 | €113 |
| Bank charges | €20 | €4 |
| German TV licence | €0 | €17.50 |
| Health insurance | €0 | €300 |
| Food | €0 | €100 |
| Total | €3320 | €985 |
Even if you have a job lined up before you go, depending on how well organised you and your employer are, it would be wise to assume that there's a chance you won't get paid for a couple of months. If you miss some deadline to get the paperwork sorted out, your company's HR department might decide to postpone your first cheque until the next month. With that information, it seems reasonable to take the up-front costs above and add twice the monthly outgoings to come up with a figure you may wish to consider having available when you come. For me, that comes to €5300. Ouch!
Of course, there's a chance that you get paid without a hitch in month one, or you have significantly lower costs (for example, staying with a friend or in an Airbnb for the first month would potentially be better purely from a cash flow point of view, due to the lack of deposit), or your employer offers you an advance or moving bonus, or you slum it without furniture for the first month. You might not need such a high figure. Tailor everything to your circumstances.
Most importantly of all, if you are planning to move to Germany: have fun! Enjoy the welcoming environment, tasty food and fascinating culture this amazing and quirky country offers!