I decided to leave Facebook. There were plenty of reasons for this and the last straw was probably a combination of the upcoming changes to WhatsApp's terms and conditions - letting them share more information with the Facebook mothership - and me being in a particularly zealous mood.
I've been thinking of quitting for years; I have not been overly attached to the social aspect and found myself spending less and less time there. One big aspect of the site keeping me from pushing the button was the tagged photos feature: there were hundreds of photos featuring me from the last 12 years during which I went to university, travelled to great places and moved countries - real memories. I didn't want to lose these. Unfortunately, while Facebook provides a way to download your own albums in one big zip, it doesn't include other peoples' photos in which you've been tagged.
After playing around with Facebook's API I thought I'd found the solution, but in the end I realised this still didn't include others' photos. As of writing I don't have a way to automatically grab these, but I thought I'd document my attempt anyway in case it's useful for others later. There is a chance the Facebook API does contain the necessary information in some other part that I didn't check.
Have you found a way to automatically grab others' tagged photos of you? I'd love to hear about it and update the page here for the benefit of others - please get in touch.
Downloading tagged photos from my Facebook profile
Searching the internet for a way to download tagged photos was depressingly, but all too predictably, full of scam apps and ancient scripts that had long since stopped working. Facebook don't make it easy to get these photos, which I assume is intentional. Most of the supposed solutions seem to involve running fragile extensions or scripts inside your browser while you have Facebook open which simulate clicks to sequentially load and save your photos. Giving some random person on the internet the power to do stuff in your browser is dangerous, but the one script that I trusted enough to try turned out not to support downloading of tagged photos, only my own albums which I didn't have a problem getting via the Facebook data dump feature. It was at this point that I stumbled upon a 10 year old script that used the Facebook API itself to grab tagged photos. This seemed promising because APIs are clearly defined ways of getting specific data from web services, not subject to the ephemeral nature of Facebook's HTML. The script required a Facebook API token, which meant first registering to become part of the Facebook developer programme (free and easy) and creating an app. Being a Python guy I rewrote the script and tried running it but found some of the API calls were no longer valid. Even APIs change over 10 years. Luckily after reading the API documentation I was able to figure out what was wrong and fix it - and it worked... or at least I thought it did. The first few photos were clearly photos of me but taken by someone else, so I thought it was working - but upon making a more thorough check I realised these photos were still from my account, so I must have obtained these from the photographers and uploaded them myself. To get a copy of others' photos of me, I concluded I had to do it the hard way: opening up the "Photos of Me" lightbox, clicking "Download" on each one, pressing the right arrow key, and... repeating many hundreds of times. In total I downloaded 500 files this way over the course of about an hour... not something I'd like to repeat, but fortunately I don't have to.
I've documented what I did anyway, in case someone finds a way to make it work for all tagged photos. I've written some instructions below for anyone wishing to attempt it.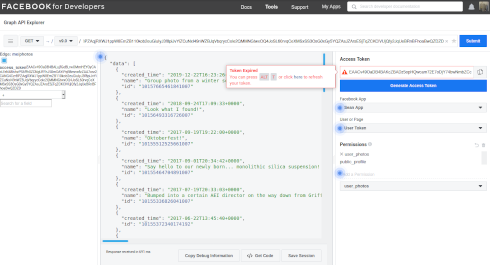 Instructions
Doing what I did involves a few steps and will take short while to set up. You'll need a Facebook account (obviously) but also a recent version of Python (at least 3.6) with a library called requests and a system tool available on Linux and OSX called wget. Search the internet for details on how to install these for your operating system. This will still be possible on Windows but will probably need some changes to the final script, which I've not done but are perfectly possible for others to do. In summary, you have to:
Register as a Facebook developer
Register a new app
Specify that the app needs access to photos, and grant it such access for your profile
Generate an API token
Run the script using Python
Details for each step below...